Meet the Tech Team at Quirk VW NH to Learn About Your VW Technology
Our Solution to Your Modern VW Vehicle Technology Questions
By now you're probably head over heels in love with your new Volkswagen. But if you're like most new VW customers you have a lot questions regarding the technology equipment in your new vehicle? Well, you're NOT alone!
Without a doubt VW has built some of the most technologically advanced vehicles on the road.
As a courtesy to you, Quirk Volkswagen in Manchester, NH has assembled a Technology Team who specializes in the demonstration and use of your vehicles advanced systems directly related to your personal day to day operation. With VW Tech Tips, Walkthroughs, and How-To's they will make sure you know your VW inside and out.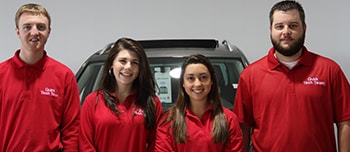 Common topics reviewed and demonstrated
Smart phone pairing, hands-free Bluetooth, and voice activated commands
Tire pressure and warning systems
Understanding your vehicles safety features and operation
Vehicle maintenance schedules and available accessories
And much more to help you maintain a trouble-free ownership experience
Our Technology Team will have you better acquainted with your new VW vehicle in no time and you'll be thankful that you took the time to learn how to take full advantage of all the fantastic features of your new Volkswagen vehicle.
A Technology Team member will always be here when the store is open!